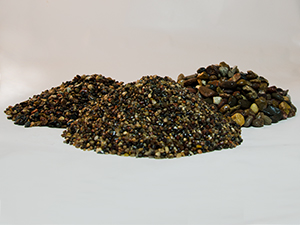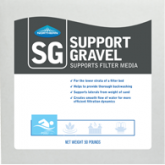 All of Northern's Gravel has been formed from a natural glacial deposit formed millions of years ago along the Mississippi River Valley. Northern Filter Media resource is comprised of over 500 acres of sand and gravel to a depth of 110 feet.
Support gravel, the lower strata of a filter bed, acts to support the filter medium. The maximum efficiency, the support gravel must possess the necessary attributes of hardness and be rounded or non-angular. Correct gradation and sizing must be calculated to properly support the filter media.
Once dredged, the gravel is sized to your specifications by sending it over a series of vibrating wet screens to in sure the cleanest product possible.
The chemical content is less than 0.0001% of the following: arsenic, cadmium, chlomium, cyanide, copper, nickel, lead, zinc and mercury.
Northern's Support Gravel meets or exceeds AWWA B100-16 (latest edition) and certified under ANSI Standard 61.
Physical Characteristics
Color: multi-color
Bulk Density: 100 lbs./cu. ft.
Specific Gravity: 2.65+
Mesh Size: 2.5 in. x #16
Hardness: 7.0 (Mohs scale)
Chemical Breakdown
Acid Solubility: 1.7%
Porosity: 38.35
Loss on ignition: 0.69%
24-hour absorption: 0.48%
Download Support Gravel SDSView ANSI Standard 61 Certification